The Reading List by Sara Nisha Adams is the official April 2023 pick for the Peanut Blossom Book Club for Recovering Readers.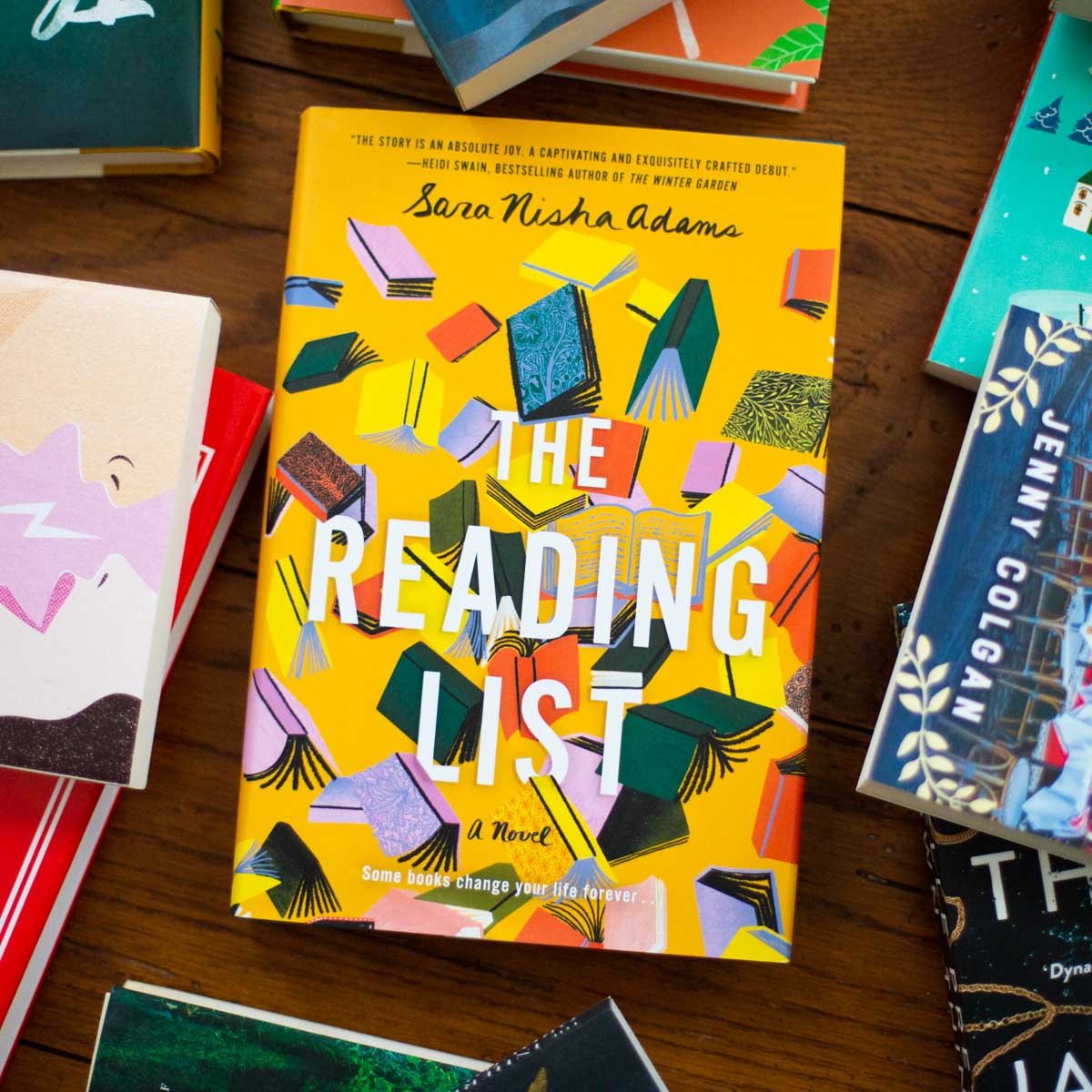 One thing is for certain: book club members LOVE books about books!
When I spotted this month's title I was intrigued. With a little deeper look, I discovered that the plot involves one character providing a list of books to read to another character and I was sold.
My favorite thing about the Peanut Blossom Book Club for Recovering Readers is that our members love to share lists of books to read with one another. The inspiration that flows back and forth within the group is heartwarming for sure.
So if you love to read books about people who love books, this month is going to be right up your alley!
P.S. Just joining us? Don't miss the full 2023 line-up for our book club picks.
Jump to:
Peanut Blossom Book Club
This book club pick is one of the awesome books from our ninth year of book club.
We're still going strong! Want to join us?
You can join our book club for free by signing up for my email newsletter right here:
What is The Reading List About?
"An unforgettable and heartwarming debut about how a chance encounter with a list of library books helps forge an unlikely friendship between two very different people in a London suburb.
Widower Mukesh lives a quiet life in Wembley, in West London after losing his beloved wife. He shops every Wednesday, goes to Temple, and worries about his granddaughter, Priya, who hides in her room reading while he spends his evenings watching nature documentaries.
Aleisha is a bright but anxious teenager working at the local library for the summer when she discovers a crumpled-up piece of paper in the back of To Kill a Mockingbird. It's a list of novels that she's never heard of before. Intrigued, and a little bored with her slow job at the checkout desk, she impulsively decides to read every book on the list, one after the other. As each story gives up its magic, the books transport Aleisha from the painful realities she's facing at home.
When Mukesh arrives at the library, desperate to forge a connection with his bookworm granddaughter, Aleisha passes along the reading list…hoping that it will be a lifeline for him too. Slowly, the shared books create a connection between two lonely souls, as fiction helps them escape their grief and everyday troubles and find joy again."
The Reading List Discussion Questions
I believe the best book club questions to spark a lively discussion in your group help readers make personal connections to the story.
You can read about how to write the best book club questions on your own here, but hopefully these will get you started!
Question 1:
Which of the books in the reading list have you read? What did you think of them? If you haven't read any, were you inspired to try any of them?
Question 2:
If you were going to make your own reading list to pass on to others, which 5 books would be on it?
Question 3:
Do you take advantage of your local library? Why or why not?
Question 4:
Do you ever read the same books as your kids as a way to connect? Or have you encouraged them to try a book you loved? How did that go?
Question 5:
Mukesh and his daughters spend a lot of time discussing food, how familiar are you with the dishes they love and serve to each other? Would you be interested in trying them?
Question 6:
Which of the characters do you identify with the most?
Question 7:
When you were Aleisha's age, what kind of reader were you? When did you discover your love of books?
Question 8:
Naina was the community-driven social one, Mukesh was the quieter one. What's the dynamic in your relationship? Do you see similarities?
Book Club Party Menu
I think it is so fun to plan your book club dinner menu or dessert list based on the theme of the book.
The Reading List takes place in London, so you could easily do a tea and finger sandwiches book club meal. Try my fresh peach scones or these easy blueberry scones.
If you're looking for a heartier book club dinner, you could plan to serve some homemade Indian food in honor of the main characters' ethnicity.
My tandoori chicken is delicious with a wild rice salad. This easy Instant Pot butter chicken can be served over jasmine rice or with naan breads for dipping.
You Might Also Enjoy
If you loved The Reading List you might also like: